Student Enrollment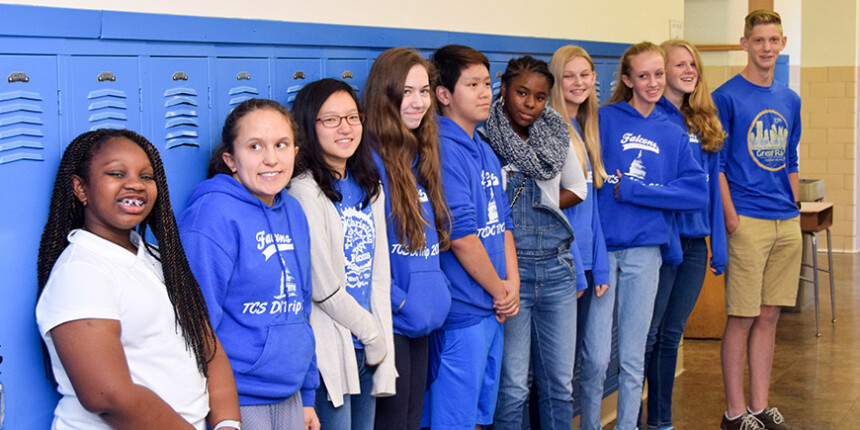 Continuous Enrollment at Trinity Christian School
What is continuous enrollment?
Trinity Christian School has implemented a new way to re-enroll our current students, starting with the 2019-2020 school year. We understand that most Trinity families choose to remain at Trinity Christian School until graduation, so we are introducing a simple and seamless process that allows parents to continuously enroll their students until graduation.
In fact, Continuous Enrollment eliminates the need for families to re-enroll each year and you will never have to worry about completing another re-enrollment form again.
Why continuous enrollment?
Up until this point, re-enrollment has been an annual "opt-in" program. We annually ask every family, "Are you coming back?" In a way, we've been inconveniencing the vast majority of families by requiring them to complete the lengthy "opt-in" re-enrollment process every year.
In an effort to make the re-enrollment process easier for our families, we have streamlined our enrollment process through Continuous Enrollment. We aim to save time, paper, and effort for our families and for us. Rather than an "opt-in" annual re-enrollment process, we will use an "opt-out" process for the 2019-2020 school year and each subsequent year thereafter until your student graduates from Trinity, or until you opt-out of enrollment. In other words, by signing the Continuous Enrollment Agreement, your child will be considered enrolled until he/she graduates with no further annual re-enrollment process involved.
Other benefits of continuous enrollment
Guaranteed Placement

Accurate Financial Aid Forecast

Lower Fee

Better planning for class scheduling, books and materials purchasing

Efficient building planning and preparations

The re-enrollment process for the Admissions office is streamlined and efficient.
Frequently Asked Questions:
What does continuous enrollment look like?
You will be asked to sign the Continuous Enrollment Agreement or notify the office in writing that you will not return for the upcoming school year, by March 10.

A $100 per family Continuous Enrollment fee (non-refundable) will be charged through FACTS incidental billing on March 25.

Families applying for Financial Aid must complete the Financial Aid application by April 15.

On June 1, you will be asked to update your Family/Student information in FACTS.

All other forms will be included in the Summer Mailer.

Each year in January, you will receive notification of the "opt-out" period. Trinity will publish the following year's tuition rates, the annual Continuous Enrollment fee, and any changes regarding enrollment.
How does the tuition payment work?
The tuition schedule is available on the Tuition & Fees page. Payments will begin in June based on the payment plan you had selected on FACTS. Unless changes are made with FACTS tuition, your payment method and payment plan option will stay the same for the duration of the student's enrollment.
What if I need to know what my financial aid award will be for my child(ren) to return?
Families who complete their financial aid through FACTS by April 15 will receive a Financial Aid decision by June 1. These families, with verified FACTS Financial Aid applications who have been notified by the school, will have their June payment dates adjusted to June 10, to allow them time to review their financial aid award and prepare for their first payment.
Families who withdraw within 10 days after receiving their Financial Aid notification, will be eligible for a full refund of tuition paid prior to the first day of school.
What is the penalty if I leave Trinity after the opt-out period?
If a parent withdraws a student after the opt-out period, but prior to the start of school, the withdrawal fee is 1/12 of the annual tuition. The parent must notify Trinity in writing of the withdrawal.

If a parent withdraws a student after school has begun, then tuition is due through the last day of attendance, plus an additional amount equal to one month's tuition (1/12 of the annual fee.) The book fee is non-refundable once school has begun.

The parent must notify the office in writing and the notification must include the reason for withdrawal and the last date the student will attend Trinity. Tuition will continue to accrue until written confirmation of the withdrawal is received by the office.

The loss of one month's tuition policy (1/12 of the annual tuition) shall exclude families who make tuition payments while awaiting a Financial Aid decision. Families who withdraw within 10 days after receiving their Financial Aid notification, will be eligible for a full refund of tuition paid prior to the first day of school.